Here is my selection of 5 awesome crochet and knit pumpkin patterns for autumn. 
Get ready for the autumn season and National Pumpkin Day with some adorable rotund plush pumpkins and other seasonal squash shapes. 
National pumpkin day may be a US thing but knitting and crochet enthusiasts around the world love a pumpkin, especially when it's a yarny pumpkin. For all of these pumpkins you will need to know the basic knitting and crochet stitches. For knitters that means knit, purl, decrease and increase. For crocheters that means slip stitch, chain, single crochet (US) and double crochet (US). You'll also need some toy stuffing and a darning needle. If you need a quick crochet guide on basic stitches, head to the bottom of the page for the references!
These patterns are for crochet as well as knitting. We can't have anybody feeling left out! Take a look and let me know which one is your favourite. Hopefully there should be something for everyone here. Do you have some scrap yarn lying around? Are you dying to use some orange yarn? Now is your chance. 
Crochet a pumpkin in a witch hat
This is a seriously impressive crochet pumpkin piece. I can't decide which is cuter? The hat, the pumpkin or the little front door? This PDF is available from Medvedik Toys Design on Etsy. This is the most Halloween-y of the pumpkin patterns I'm showing you today, so if spooky is up your street, do have a peek!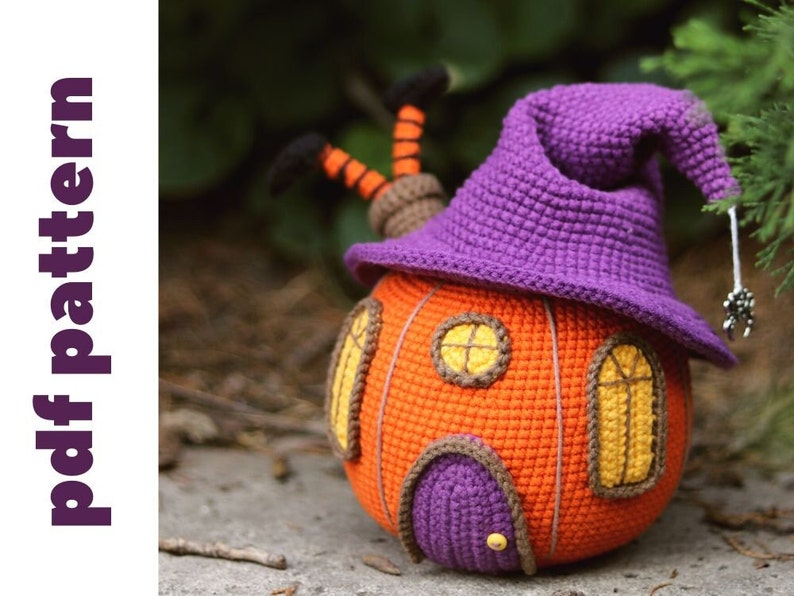 Munchkin Pumpkins knitting pattern by Victoria Magnus 
Head to Eden cottage yarns to find these ridiculously cute knit pumpkins. This pattern is a knitting pattern and requires you to knit with aran yarn, so you can expect a quick result! See the pattern here. They're so little and sweet that you could make a collection of several. Use any colours you like- they work great for leftovers. 
Cute crochet pumpkin pattern for beginners by Sarah Maker 
Head to Sarah Maker to learn how to make this cute crochet pumpkin. The pattern is available here. I just think it is one of the most adorable crochet pumpkins I have ever seen. If you need help learning the basic stitches to make it, my youtube channel is here.  
If you're looking for something a bit more substantial for autumn crochet, try this pumpkin harvest pattern! Head to the website here This lovely pattern allows you to make not just one pumpkin but several squash shaped crochet vegetables! They would make an awesome autumn decoration that you could use again and again.
Easy knitted pumpkins by Claire Fairall 
I absolutely adore this knitting pattern by Claire Fairall. The pumpkins come in several sizes and are knit rather than crochet. The detail is deceptively easy to achieve. Check it out on Lovecrafts here. 
I hope you enjoy these patterns and do get around to creating some of the pumpkins this autumn. I certainly will be! Which one will you choose? 
See also: 
Beginner crochet playlist on

 

Youtube