You may have heard that crochet fabric doesn't look as good as knit fabric. Did you know that it can? Here I will explain how to create fabric that drapes!
If you're a frequent knitter and you've dabbled with crochet, one of the main observations you may have made is the difference in drape. You may have heard knitters say that they don't like the 'stiff' fabric that crochet produces, but I want to tell you that it doesn't have to be stiff and boxy. Here I will show you how to create crochet fabric that drapes well. 
What is drape and why does it matter in crochet?
Drape is the way that a fabric flows or hangs. It allows it to sweep, gather or float off the body or sway in the wind. It's gorgeous and it is absolutely what we want when it comes to shawls and garments. Think of chiffon sarongs, velvet curtains or lace shawls. How something drapes is down to a few factors of which I will explain below. 
As a rule, crochet stitches do tend to produce a thicker, denser fabric as the method of crochet requires wrapping and 'knotting' in the way the stitches are formed. If we were to compare crochet fabric with knit fabric according to the recommended hook and needle sizes on a ball band, the crochet will most probably be thicker, but this does not mean that crochet fabric is always stiff and dense. It is a common misconception that crochet fabric makes rubbish garments and that it is always stiff. 
You can create drape with crochet fabric and it doesn't just have to be with lace and openwork. 
There are many ways that you can create looser, draping fabric with crochet that doesn't have to result in it being completely see through and vulnerable to door handles. 
This could be done in several ways: 
The size of the crochet hook used. 
The direction of the stitches e.g. vertical is less see through than horizontal. 
The thickness of the yarn. 
The stitch pattern. 
The yarn used. Some yarns are just softer and have more drape, or a thinner feel to them. Not all 4ply and DK is the same thickness, for example. 
Blocking. 
Size matters when creating drape.
If you use the crochet hook size recommended on the ball of yarn, I can almost guarantee that you will end up with a dense fabric. If you go up half a millimetre or a full millimetre, it will become a looser fabric. You can keep experimenting with this until you get to a hook size that creates the drape you want.
Horizontal vs vertical can improve your results when creating drape in crochet fabrics. 
If you turn a crochet piece on its side, the layout of the stitches and the drop changes. This could help with drape too (depending on yarn).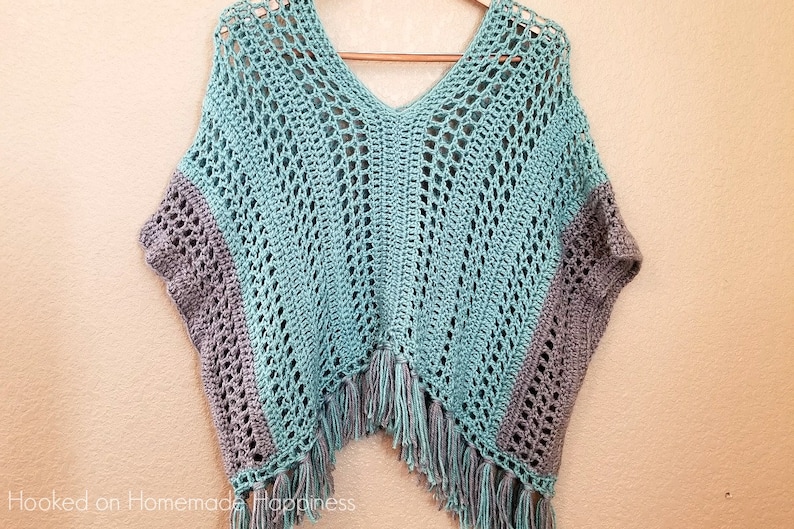 Thickness of the yarn can affect drape 
Using an aran or chunky yarn will cause problems if you don't go up a hook size. If you have loose enough tension, you can get away with the recommended hook size, but if you can't, you need to increase your hook size. Here is an example of a chunky/bulky weight yarn that has drape in a cardigan. 
Believe it or not, you can get chunky weight yarn to drape. Creating crochet fabric that drapes with chunky yarn may seem unlikely but it is possible. Above is my Starburst crochet cardigan pattern and although it asks for chunky yarn and a 6mm hook, it has drape! It hangs off the body and the sleeves drape too. It is not a stiff jacket, it's a cardigan. Bear in mind that although the pattern may ask for a specific size, you will know from your test square whether the finished item will drape how it is supposed to or not. Most makers will achieve the desired fabric if they go up a hook size, as my tension seems to be quite loose! You should always test your personal tension with the yarn to see if the yarn is thin or thick enough! 
The stitch pattern used will affect the finished result. 
The stitch pattern you use affects drape considerably. For example, double (UK treble) crochet is a longer, looser stitch than its predecessor, the single crochet stitch. 
Single crochet (UK Double) is also the most dense stitch you can make. It is therefore brilliant for items that require structure, stiffness or an opaque, tight fabric. Here are some examples of where single crochet works wonders: 
amigurumi (pictured below)
baskets
bags
rugs 
hard wearing throws e.g. dog blankets 
Pet beds 
Bath mats
Face scrubbies 
Pouches and cases 
It's not just single crochet that will cause stiffness though. 
Using any stitch can cause stiffness. All you have to do is use a crochet hook a couple of sizes smaller than the yarn recommends. It works just the same with knitting. 
Yarns 
We have briefly covered the yarn and the recommended sizes that come on the ball band. In my experience, the ball band isn't always correct. This is because they are a guide rather than an absolute. That ball band does not take into account what your personal tension is. I was also saying that not all 4ply or DK yarns are the same. This is where wraps per inch (wpi) comes in handy. I will explain further in another blog post, but basically: 
Working out WPI: 
Wrap your yarn around a pencil or a pair of knitting needles for 3-4 inches. Using a ruler, measure how many wraps per inch. This gives you a clear idea of how thick your yarn actually is.  Although Cygnet boho spirit says it is DK, the recommended hook/needle is 4.5-5mm. If I were to work out wpi with Cygnet boho and Cygnet DK, they would be different thicknesses. 
Blocking creates drape!
If you are using natural fibres, blocking is invaluable for altering the drape and the feel of the finished item. It can help it to hold it's shape and open out any stitches that are deliberately loose e.g. lace stitches. You can also block acrylic by 'killing' the fabric with steam or a warm iron just hovering above it, but most of the time, acrylic can drape if you just use the right hook. 
Overall, I think experimenting with crochet and trying out crochet drape is worth the time. I don't think knitters should shy away from crochet because the stitches are different.