Blogtober and Socktober cross paths for a reason and that reason is so that I can show you the absolute superstar patterns to launch you into Socktober. 
These patterns vary in difficulty and structure but overall, if you can knit and purl, you can make socks. They're all described as 'Socktober superstars' for several reasons but the main reason should be that they bring you some joy this autumn. Whether you're a lover of all things texture, a sock adventurer or a timid beginner, there should be something here for you. 
Beginner friendly 
The socks that I'm going to show you here are certified beginner friendly. This means that with knowledge and experience of basic knitting stitches, you can make these socks. 
These socks were a breakthrough pattern to just bring people over the line. I met a few knitters who really wanted to try socks but either hated knitting in the round or just couldn't get their heads around double pointed needles or magic loop with circulars. They're completely hassle free. You just knit them in one piece, working the heel using short rows and seam them up. They only have one seam. You can't argue with that.
First Timer socks by Hanna Gough
The first timer socks are named the first timer socks for that reason. They are the socks that give a knitter their first experience of knitting socks. They are cuff down and have a square, integrated heel. You can create it by working back and forth. You don't have to pick up any stitches! 
This pattern also comes as part of a sock knitting kit.
Casual and cute sock patterns for Socktober. 
In this section I'm going to show you socks that work perfectly if you wear trainers or if you love socks but not the commitment of knitting the leg. They make great gifts and could be your new favourite sock patterns. 
Crocus by Alexandra Gilligan-Cook (Korora Knits)
The Crocus socks are my top recommendation for small, lacey socks that you can wear on a casual basis. You can either make it to fit up to the ankle or make them to fit further up the leg. 
Alexandra Gilligan-Cook is a knitwear designer based in Canada and is passionate about the pretty. You can read more about her work here. 
Why is this a superstar Socktober pattern? 
The crocus socks use a slipped stitch technique to mimic the long lozenge petals and to create perfectly round eyelet holes. These socks are a fast, straightforward knit with a timeless feel.
It's quick! You've got to love a sock pattern that requires only the foot covering. It will use up less yarn too. 
Adventure shorties socks by Anniken Allis 
The Adventure Shorties can be worked from the toe up or cuff down with an afterthought swirly heel and a choice of two different stitch patterns. 
Why is this a superstar Socktober pattern? 
These socks are particularly super because they can be worked toe up or cuff down and they have an afterthought swirly heel AND a choice of two stitch patterns. What's not to love? They're a great challenge for the sock knitter who wants to push themselves further this Socktober. See the pattern here. 
More challenging socktober superstars
Don't be put off by the word 'challenging here' I am referring to it in the sense of 'not basic' so it is perfect for those of you who prefer a bit more texture or something unusual. Everything in this section is here to give you a little push into sock discovery. 
Super sock snake by Louise Tilbrook
Need something a bit different? Try the super sock snake tutorial. This looks like loads of fun as you knit one long tube and turn it into a pair of socks. 
Sounds challenging, doesn't it? 
It is described here as:
This is a short tutorial for a different way to knit socks two-at-a-time.

Knit a long tube with a toe at each end, then snip to separate them and add cuffs and afterthought heels.
There are plenty of photos and step by step instructions to carry you through. You can read more about it here. 
Why is this a Socktober superstar pattern? 
It's featured here because whether you manage to make the socks or not, it's well worth trying. Put it on your sock knitting bucket list. I'm putting it on mine. You haven't lived unless you've come at your socks with scissors, I reckon. 
Full Fathom Five by Korora Knits
We are back to the work of Alexandra Gilligan-Cook here with a colourwork sock project. Alexandra says: 
These socks are show off socks.  Wear them around the house and casually rest your feet upon the sofa or a strategically placed pouffe to show off your amazing octopuses. 
Why is this a Socktober superstar pattern? 
It's a pattern for a pair of socks that have Octopuses on the soles. Oh yes- there are Octopuses on the bottom of each sock. Get the pattern here. 
Texture for Socktober! 
How could I do a blog post about socks and leave out the socks that celebrate texture? Here are a couple of beauties to keep you going. 
Daydreamer socks by Victoria Magnus 
How could I not show you these? Both photographs are in autumnal colours but the gold was calling to me. They're so sweet and have a satisfying texture. 
Why is this a Socktober superstar pattern? 
I think it's a Socktober superstar pattern because it's cute, not going to lie. Seriously though, the lace repetitions and raised stitches and wrap and turn heel are well worth investigating. I have this pattern and will be casting it on this month. I wish I'd done it sooner. Need some yarn inspiration for this one? You can read more about this pattern
here. 
Lines and squares by Tash Knits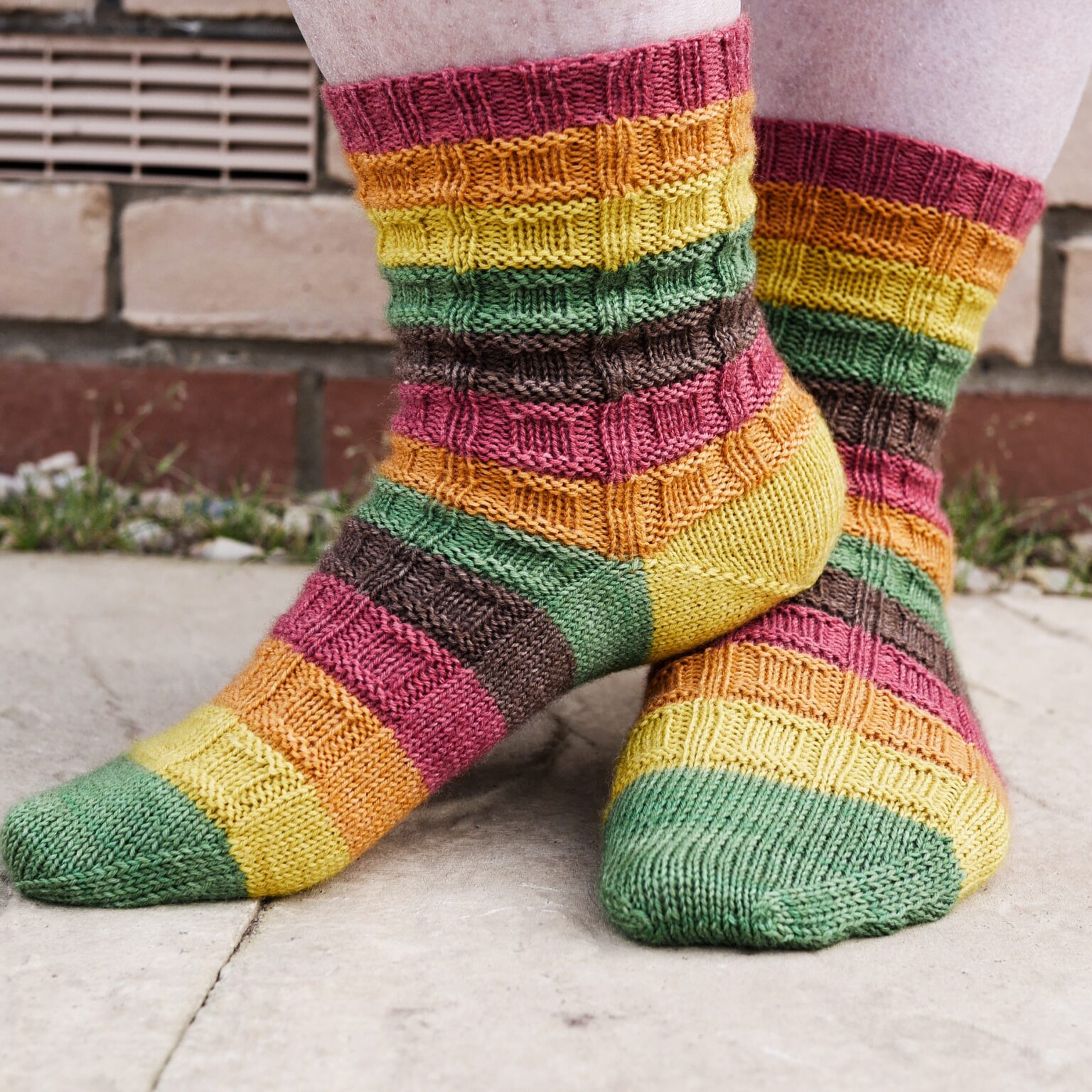 I love this sock pattern as not only is it photographed in autumnal colours but it's a lovely challenge to try some more texture in your socks. 
Why is this a Socktober superstar pattern? 
Simply constructed, these socks feature a square and line design.  The design starts just under the cuff, and then continues along the top of the foot.  Perfect for colour or gradient sets, each set of squares is knitted in one colour before moving on to the next.  This pattern also features a holeless short row heel and a wedge shaped toe.
You can read more about lines and squares here. 
How are you feeling about Socktober now? 
Whether you're a complete beginner or a seasoned sock knitter, I hope you feel welcome. Enjoy the process! 
See also: 
Socktober tips by Louise Tilbrook
 Sock Knitting on Two Straight needles. 
Things I wish I'd known as a Beginner Knitter