Do you ever wonder where crochet comes from? Here's a brief history of crochet. 
Crochet is everywhere right now if you open social media but do you ever wonder where crochet comes from? If you're a participant in this magnificent craft or know someone who is, you may have once wondered where crochet comes from.
If you know nothing about crochet, let me clarify a few things:
It wasn't invented by Sh**n, that's for sure.
You may be able to buy a crochet tank for £15 from the high street but if you knew what work goes into it, you might think twice. 
Crochet is an art form. One person has done that with one hook. It could have taken them hours, weeks or months to make. 
Crochet cannot be made by machine. It is just not possible to crochet using machinery. There are knitting machines but not crochet machines. It can only be done by hand. How many other things can you think of that can't be made by a machine? 
Where does crochet come from? 
Crochet is thought to have originated in the Middle East, China and South America a very long time ago. It is theorised that it was pre-1700s but the exact dates are unknown (possibly because it was the work of lower class women? Not worth documenting, right? Thanks Patriarchy). It bears a close relation to the ancient art of Chinese embroidery. I'll show you how this links up to what crochet looked like when it reached Europe.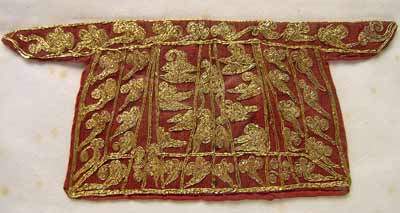 This piece is taken from the Tang Dynasty (618-906). It's an embroidered shirt that once belonged to someone of the upper classes. Embroidered garments were worn according to wealth and the stitches used were a combination of chain stitches and straight stitches. It's the chain stitches that are of interest here, as they resemble modern crochet chains. 
Like with one needle, we work with one hook for crochet. We don't thread anything through the hook but we do make chains and build on what has previously been laid out. Think of the granny square: we start in the centre after making chains and we build on every stitch to create more stitches. They have to connect with chains. 
When crochet came to Europe in the 1700s, the main reason was lace. Lace was a luxury item. It was expensive, sought after and worn by the elites of European nations. Think cuffs, veils, collars, neckerchiefs and gowns made of delicate silks and fine cotton. 
Image shows a mid-1800s shawl made with Blonde bobbin lace, France (Collection of Lacis Museum of Lace and Textiles, Berkeley, CA) 
There were two types of lace used in Europe: Needle lace and bobbin lace. Both were a way of creating see through embroidery-like fabric. 
Lace, a decorative openwork web, was first developed in Europe during the sixteenth century. Two distinct types of lace making—needle lace and bobbin lace—began simultaneously. Needle lace is made with a single needle and thread, while bobbin lace entails the plaiting of many threads. Lace thread was typically made from linen, and later silk or metallic gold threads, followed by cotton in the nineteenth century. 
Lace: A Sumptuous History 1600s–1900s
Lace was so popular that in some European courts, the wearing and importing of lace from particular countries was banned. It was heavily sought after and inevitably smuggled. As lace making was painstakingly time consuming and expensive, tatting and crochet were born in the 1800s.
This was a way of making lace-like items in a quicker, more cost effective way. Working class girls could take it up as a way of earning a living. It was a domestic skill rather than industrial and it would benefit women most. Throughout 18th century Europe, women were crocheting behind closed doors as a way of boosting their household income. It was one of the only jobs a woman could do in a time before equal rights and flexible working. As it was difficult to get a job if you had to care for several small children, a household and a husband, lace was worth investigating. 
Crochet in the 1800s
Crochet could not have come to Europe at a better time. It was during Ireland's potato famine that it particularly brought benefits to Irish girls and women. They could earn money by making beautiful motifs, shawls, tablecloths and much more.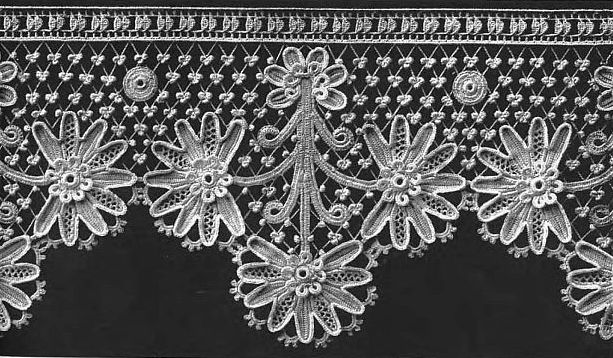 Irish crochet basically mimics lace. It is constructed from a main motif that is repeated several times (in this case, a flower) and is joined by mesh stitches. This is all done with a small, steel crochet hook and crochet thread. Isn't it amazing? There's no crochet quite like it. If you laid this on to some plain fabric, it would resemble embroidery. 
In the book Masterpieces of Irish Crochet Lace Mary Carolyn Waldrep writes: 
The delicate three dimensional flowers, leaves and sprays that characterise Irish crochet are considered by many to be the finest example of that crocheter's art. This beautiful craft was originally developed mid-19th century Ireland as a method of imitating expensive Venetian point laces. Within a few years it was being taught in almost every convent in the country and by the 1880's there were at least 12,000 women in Cork and its surrounding area alone engaged in making crochet lace.
Irish crochet lace enjoyed fame into the late 19th century until competition from machine made lace pushed it to one side. It did not die off though! It is still being enjoyed to this day. 
Modern crochet
As lace was taking a back seat into the 20th century, crochet developed more and more. Patterns that had been shared in women's periodicals were still being shared well into the 20s and 30s and crochet enjoyed significant prominence in the 60s and 70s. The threads got thicker and as it was a fast activity, trends could be kept up with. Here's a timeline of iconic crochet garments from the 1930's to the 1980's. 
1930's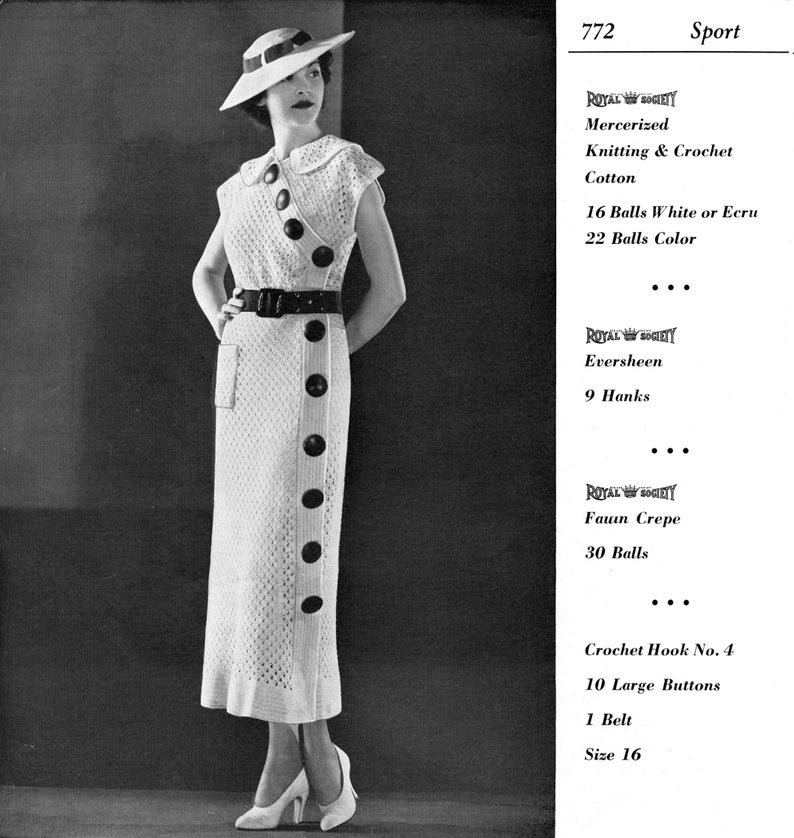 1940's 
1950's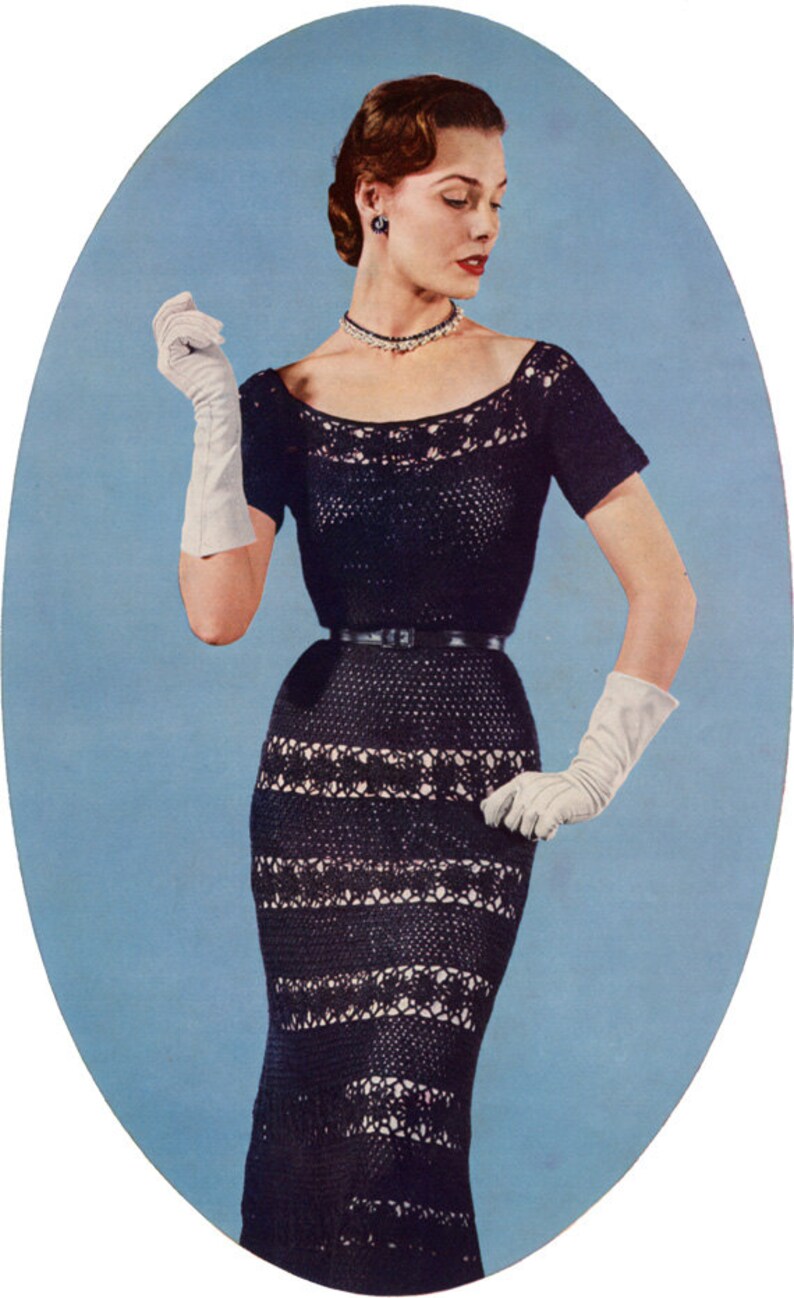 1960's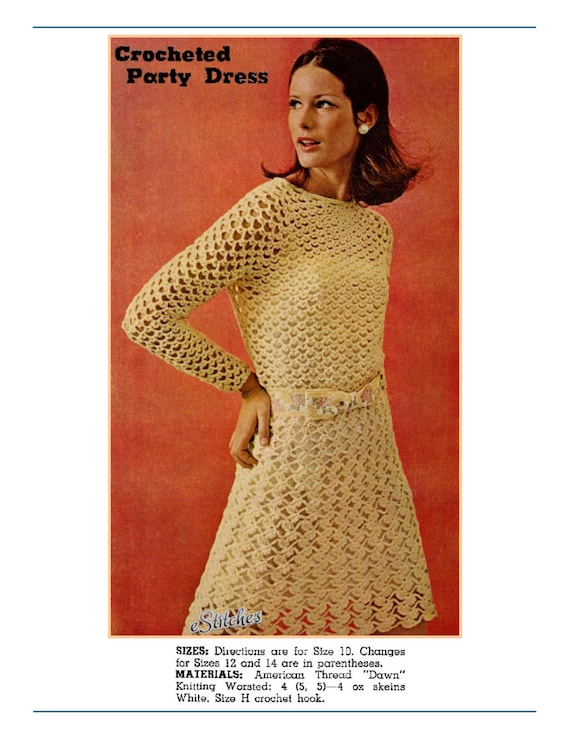 1970's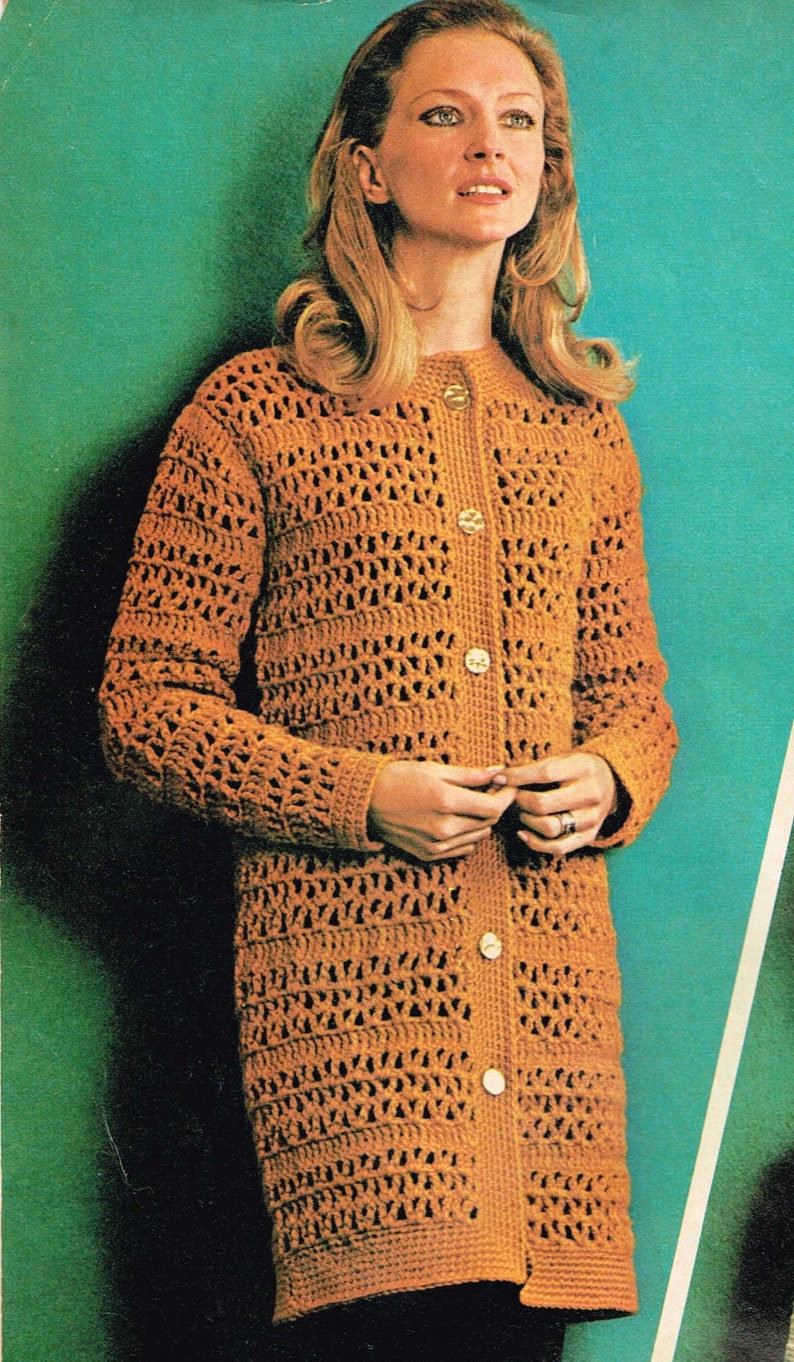 1980's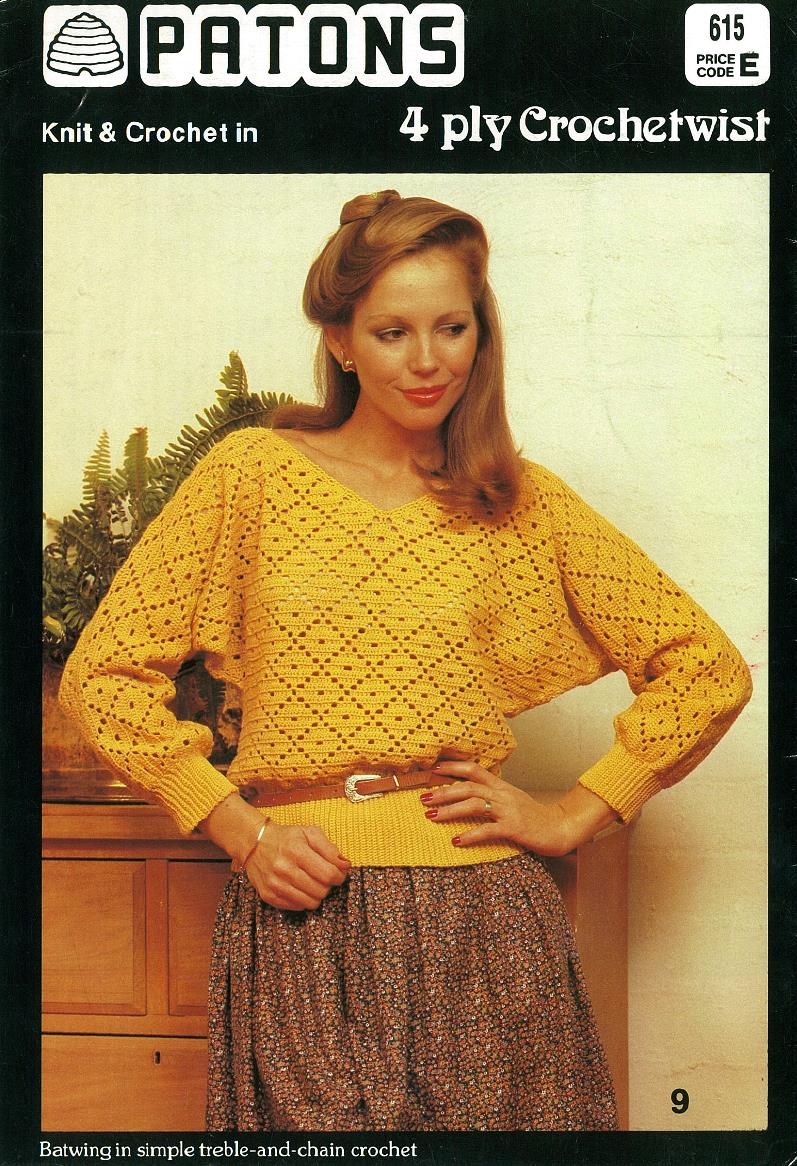 Think about it: some of the most stylish garments that you could get your hands on could be made by you. In the 20th century, fabrics and yarns were significantly cheaper than buying ready made garments on the high street. Even with the boom of cheaper synthetic clothing and textiles in the 1960's, you could save money by making your own clothing. 

We live in a different world today but with a bit of encouragement (and the existential crisis we face with pollution and planet destruction thanks to our titanic internet fast fashion brands), slow fashion and DIY wardrobes are making a comeback. Did you notice that there's not a granny square or toilet roll cover in sight here? Yes, me too. 
Contemporary crochet
I won't share 90's to now because I think over the last 30 years we have been revisiting, redesigning and embracing the retro. In the 90s, some cardigans were still very much all about the bat wing or man-sized fit to billow or hang off the female form (think Princess Diana). In the late 90s and early 00s it was very much fitted and sometimes barely there (Britney had a knack for sweet girl-next door wearing hardly anything). I love that from the 2010's to the 2020's you can have any style of crochet that you like. We really celebrate the differences in taste, body shape, body size and colour preferences. It's a good time to crochet!
The 60s and 70s were very much documented as the "crochet boom" of the 20th century but I think we are in a boom right now. It's not just about granny squares or imitating lace; crochet has evolved. 
I hope you enjoyed this little tour of crochet. I certainly did.
Now, where did I put my hook? 
Further Reading: 
How To Get Started With Crochet
The Stash Busting Blanket Crochet Along 
Why you should try the granny square
A Short History of Chinese Embroidery