Step into autumn with these cosy crochet makes this October. 
When choosing your crochet makes and colours this autumn, think about grey, mulberry, gold, brown, orange and red. You only have to look outside for colour inspiration (even when it is raining). When thinking about fibre, think cosy, snug, warm, fluffy and of course, squish. 
I wanted to put this blog post together to show you what you can make this autumn if you want cosy but not necessarily blankets and cushion covers. Hopefully these patterns will inspire you and make it into your autumn/winter collection. I thought cowls, mitts and tea cosies were in order. Is that what you think of when you hear 'cosy crochet'? 
I'm going to show you some crochet patterns that can absolutely be autumned-up if not already. All of these designs get the cosy stamp of appproval this month and I hope that they inspire you!
The Roma Cowl- a satisfying crochet accessory.
The first seasonal crochet make is the Roma Cowl. I used 400m of Vivacious 4ply for mine and wow, what a choice. Here you can read a bit more about this yarn. It's 100% merino wool so feels lovely around my neck in the chillier months. Don't let the lacy fabric deceive you though. This is a combination of double crochet stitches (US terms) and nothing more. Your friends will never know how much fun you had making this. 
Autumn mitts crochet pattern 
This pattern is from Becca of To Be Adorned and the mitts are just adorable. The flower in the centre is so pretty with contrasting colours for the rest of the mitt. You can of course use any colours you like but I think Becca has done a great job here. This pattern is available on Lovecrafts  Becca describes these mitts as: 
A cosy, beginner-friendly accessory to keep you warm or give as a gift. These fingerless mitts are ideal for chilly woodland walks or just as an extra layer at your desk. They have granny square details and popcorn stitches.
The Lost and Found Crochet Wrap 
Make this as thick or as thing as you want. It's a crochet rectangle shawl in a colour that cries autumn sunset. The yarn is actually called 'I feel lost' and it's on the doll sock base from Rusty Ferret.  
It makes a great gift too, so if shawls and wraps aren't your thing but you love making them, pass it on! You can read more about the pattern (pictured below) here. 
The 'Hygge tea' tea cosy crochet pattern. 
I hope seeing this pattern leaves you feeling very autumnal. What better way to get 'hygge' and whip up this cute crochet tea cosy? This pattern is from Make with Meggie and can be found here.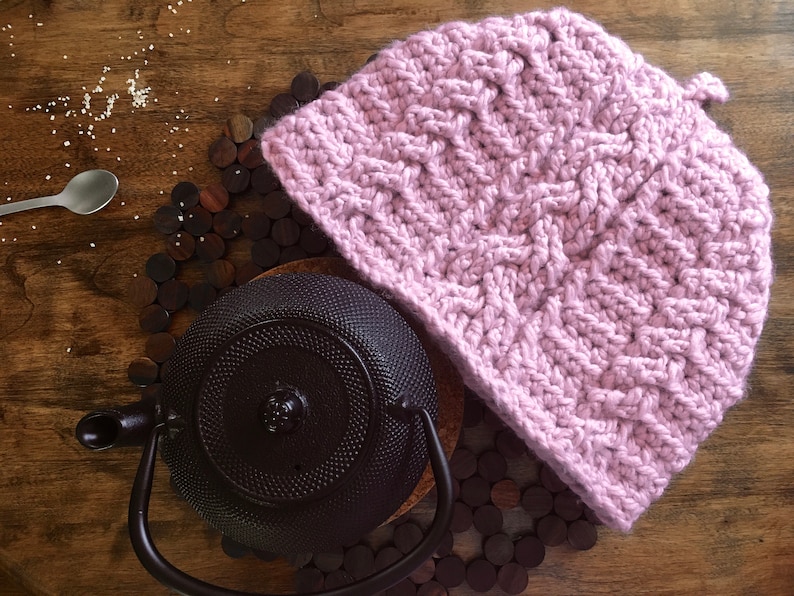 Lliwiau'r gaeaf wrap by Heidi McCarthy
I've loved the look of this wrap for a long time. I think it makes a perfect autumn project. If you want a bit more of a crochet challenge, you have to try this wrap. Here's what Heidi has to say about it: 
The colours of this huge wool hug are inspired by the colours of Gwent in winter; the rust red colour of the hillsides, broken up by green sheep grazing, brown patches of felled forest and sometimes the grey cloud is so low you can't even see the landscape.
The pattern is available here where you can also read more about it. 
The Jewel Cowl 
If you're looking for something simple, repetitive and relaxing, look no further than the jewel cowl. It was designed to match the Jewel hat. You only need one 100g ball of worsted weight yarn for this! I used Cygnet Boho Spirit for mine. It comes in a range of colours and while this colour pictured may not be very autumnal, there are certainly some big seasonal hitters in the colour range. You can read about it here.   
The pattern pictured below is available here.
I hope you are feeling inspired and looking for your next autumn crochet make. Let me know in the comments!
If you do want cosy blankets this autumn... 
Here are some further reading links to help you sort your seasonal projects. 
Stash Busting Blanket CAL with inspiration and patterns.